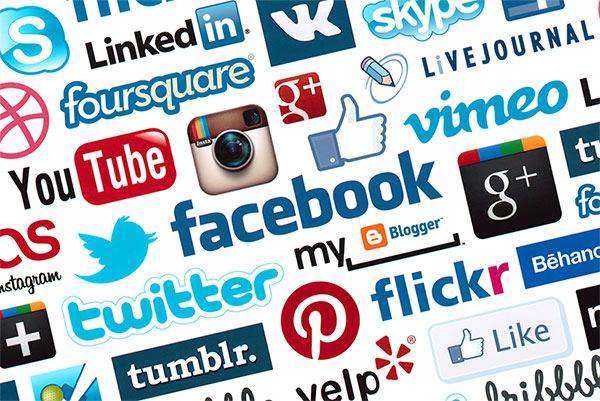 2013 was a rough year for some large companies on social media. We thought we'd take a look at some of the bigger ones. As a note, this was written before College Humor's PR maven Justine Sacco's blunder at the end of December. That mess aside, here are 10 of this year's worst social media fails:
When Engaging Your Audience Doesn't Work Out So Well – #AskJPM Turns into Outpouring of Hatred for Wall Street Executives
JP Morgan's biggest Twitter folly of the year began innocently enough when the banking giant tried to use social media in an 'out-of-the-box' way to get Twitter users to ask Vice Chairman Jimmy Lee questions about corporate life at the firm.  JP Morgan's Twitter  account posted this tweet:
$JPM VC Jimmy Lee is taking over @JPMorgan on 11/14 at 1pm ET. Tweet Qs using #AskJPM & learn more about him here: http://t.co/eTDT8pJeq8

— J.P. Morgan (@jpmorgan) November 13, 2013
But exercise did not get very far once word about the Q&A session got around the web. Soon after the original tweet announcing the session, Twitter users took every opportunity they had to take shots at JP Morgan and remind them just how poorly they are currently viewed by the public for predatory lending practices, the LIBOR Rigging Scandal, and the London Whale. Tweets bashing the company were abound with users saying things such as:
What's your favorite type of whale? #AskJPM

— Matt O'Brien (@ObsoleteDogma) November 13, 2013
IS IT A FAIR ASSUMPTION THAT YO SOCIAL MEDIA TEAM DID NOT PROPERLY PROTECT YA NECK? #AskJPM #WuWednesday

— Wu-Tang Financial (@Wu_Tang_Finance) November 13, 2013
Do you have a secret jail in your offices so your executives get at least one chance to see the inside of one? #AskJPM

— David Dayen (@ddayen) November 13, 2013
In a move that surprised no one but JP Morgan, the question and answer session did not last very long before the firm called off the event and tried to make light of the situation by saying it was time to go back 'to the drawing board,'  proving yet again how out of touch certain people are with reality by failing to see what everyone else saw coming.
Lessons Learned The Hard Way
Understanding how the public perceives your company or your product is vital to successfully engaging an audience. Though 'ask me anything' (or AMA) threads are extremely popular on forums such as Reddit, if your brand is currently taking flak for losing 6 billion dollars in bad trading deals, or the public is still seething over those 'golden parachutes' your predecessors received to run the US economy into the ground, it's definitely not a good idea to promote your company with an open-ended question that could be taken anywhere.
This is What Happens When You Pick the Wrong Time to Promote Your Brand or Product
Epicurious Thinks That Scones and Breakfast Cereals Will Ease Boston's Post Marathon Bombing Anxieties
No matter how good your intentions may be, suggesting that freshly baked foodstuffs will comfort those affected by a horrific terrorist attacks as a way to promote your brand is not going to work out well in any sense of the word. The baking company Epicurious learned this lesson the hard way when, following on the heels of the Boston Marathon Bombings, the company took to its Twitter account to post,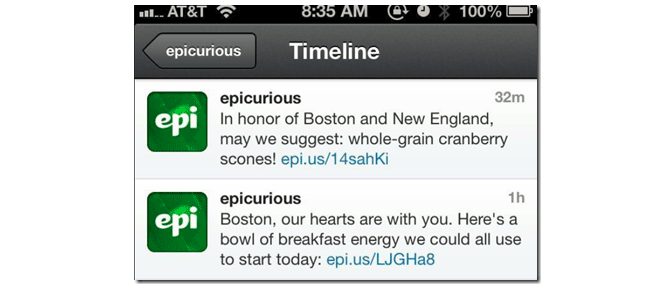 Soon after the tweet, followers of  Epicurious began attacking the company for insensitively trying to promote itself following a domestic terrorist attack. 30 minutes after the first two tweets were posted, and after a litany of scathing comments from followers and observers alike, the company posted an apology that somehow managed to make them look worse than they did before they suggested that cranberry scones might be a potential way to relieve post-traumatic stress disorder.
Spaghetti O's Mascot With Flag Not Patriotic Enough to Sell Food On Pearl Harbor Anniversary

Less than two weeks ago, Spaghetti O's took a beating on social media platforms after learning no matter how large the American flag your mascot is holding, it's not large enough to try and sell canned goods on the 72nd anniversary of the surprise Japanese attack on the American Naval Base at Pearl Harbor. On December 7th, (for those of you lacking on the history savvy), the Spaghetti O's Twitter posted this: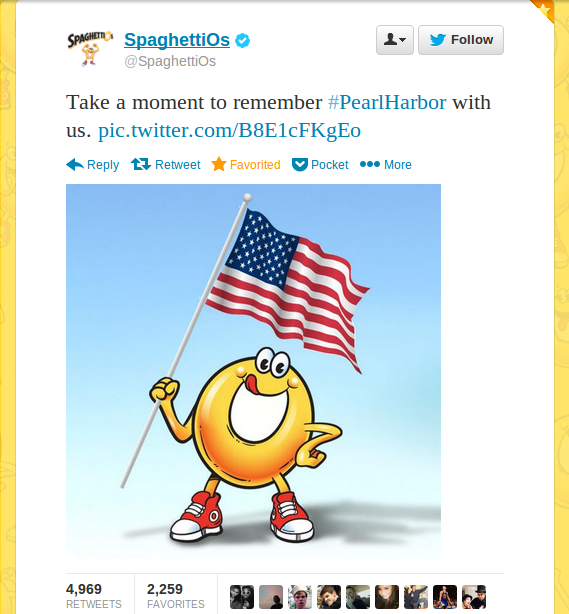 Asking your followers to remember a national tragedy while your mascot is holding an American flag with an goofy grin accompanying his face is equally in poor taste as Epicurious suggestion that the heartwarming power of scones will nullify the heart-wrenching anguish of losing a loved one, or being locked down inside your house for hours while your civil liberties are bent over a desk. Twitter responded to Spaghetti O's in the usual, hyper-negative fashion, with users mocking the company's 'remembrance' attempt by photoshopping the Spaghetti O's mascot onto pictures of Pearl Harbor.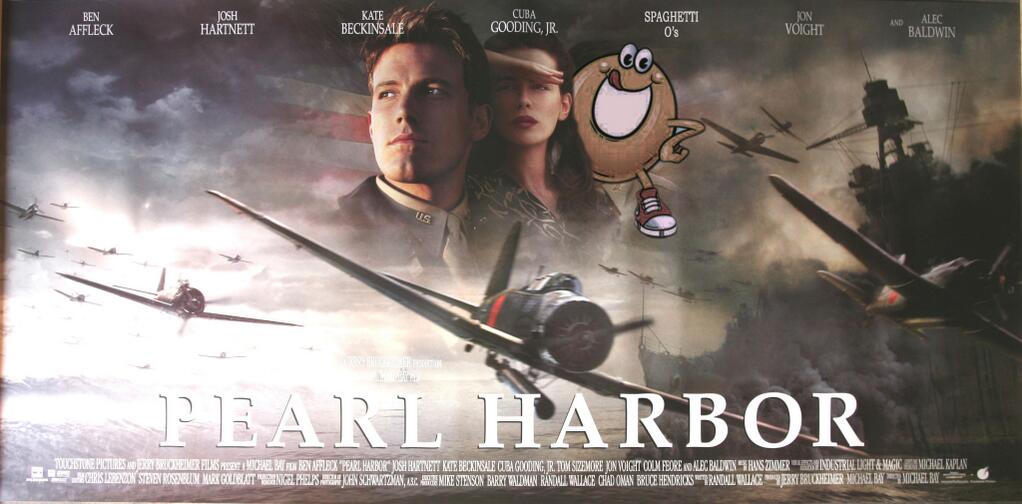 Lessons Learned The Hard Way
Quite simply, don't try and promote something during a national tragedy that occurred in either the past or present, (or future if you happen to be the Time Cop). Offering condolences or a tasteful remembrance is all a company has to do in order to not come under scrutiny for a blatant lack of integrity.
This is What Happens When Your Account Gets Hacked Or Too Many People Have the Password – BurgerKing and HMV
BurgerKing Twitter Account Gets Hacked, Hilarity Ensues
Two months into 2013, the BurgerKing Twitter account was hacked, with everything on their Twitter homepage changed to look like the company was bought out by McDonald's. On  on February 18th, Twitter followers of BurgerKing were greeted by a homepage that looked like this: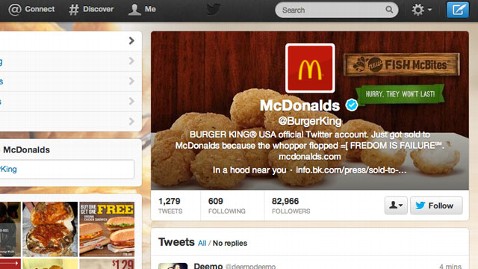 Alongside zany tweets that read: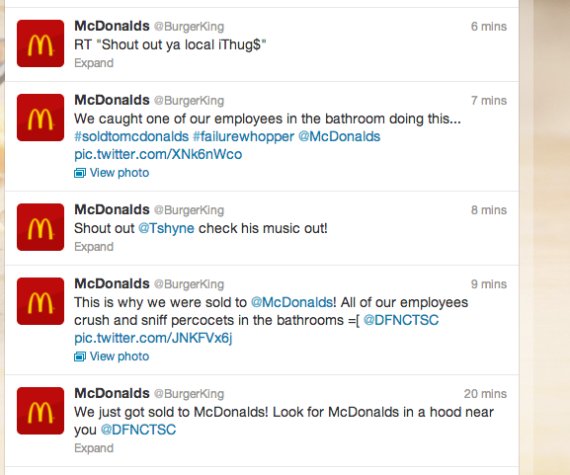 The Twitter-verse soon erupted in password security tips for the fast food company, suggesting that "Whopper" and "Cheese" may not make for secure passwords after all, because what else can you say to a firm that has already taken its beatings for the day?
haha! re: http://t.co/xnH76Sry : RT @cebsilver .@scottmonty "What was the account password?" SM Intern: "It was 'whopper.'" "You're Fired."

— jeffscott (@jeffscott) February 18, 2013
Who knows, maybe this guys can get a job as online security experts at Burgerking. In the end, everyone won except BurgerKing.
Disgruntled HMV Employee Live Tweets Mass Firing
On the last day of January this year, Twitter followers of the 92 year old music chain HMV were greeted with a barrage of tweets about the company and its decision to lay off of 60+ workers in one day. With the anonymous poster calling the layoffs a "mass execution", tweets about the demise of 60 plus jobs within the firm ran rampant on the company's account for a little while.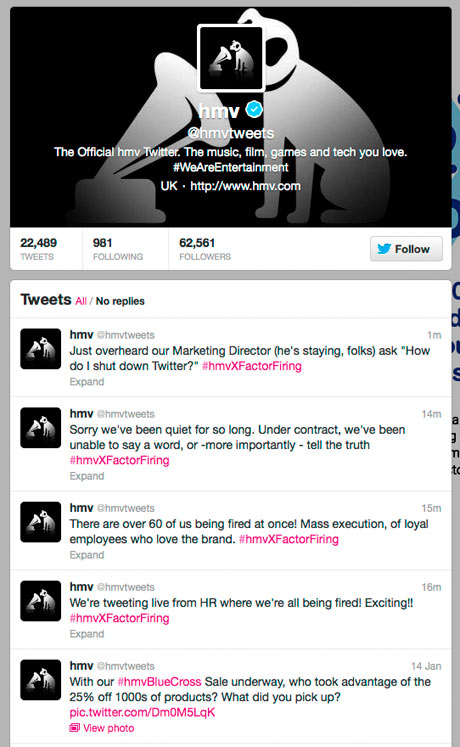 The tweets that detailed the company's decision to fire 60 employees like it was throwing out the morning trash lasted on the page for 25 minutes before being taken down. The collective memory of the internet, however, lasts much longer than that, with HMV's tweets immortalized in .jpg form forever. HMV and the only comment it the matter was from a  joint administrator who had  declined to comment on the tweets, only to confirm that there were actually 190 redundancies within the company, giving him the privilege of making the company look both unapologetic and as if it had a heart, "two sizes too small"
Lessons Learned The Hard Way
In the case of BurgerKing, the answer is simple: have a strong password that hackers cannot easily render useless in the same way you do to cows; in fact, adding a number and a capital letter in your password makes it much harder to crack. Those tweeters who suggested that "cheese" and "whopper09" were not strong passwords might have been onto something.
For HMV, the entire mess could have been avoided if they just kept track of who had access to the company's Twitter site or changed the password to log on before the mass execution that made them look like a bunch of heartless robots. Also, don't let unpaid interns set up your Twitter account and give the password to everyone they can get it to. On a side note, stating that there were 190 redundancies while taking flak for firing 60 of them makes your position look much worse, no matter how much you're trying to save.
Amy's Baking Company Learn Not to Feed Trolls the Hard Way, Goes Full Meltdown on Facebook
After being honored with the title of the first ever restaurant that Chef Gordon Ramsay has ever walked away from on Kitchen Nightmares, Amy's Baking Company Bakery Boutique and Bistro's Facebook page was showered with a stream of negative criticisms, comments, and the obvious trolls, like a vengeful Old-Testament God trying to kill Noah. The owners responded to the criticisms gracefully—wait, just kidding. Instead Sam and Amy posted profanity laced responses like this: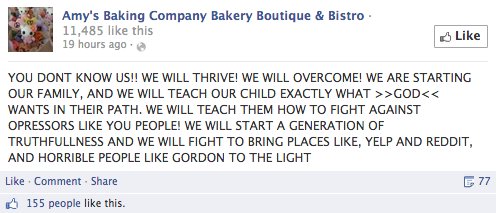 Following the pair's all-caps, expletive laced, rant that would make Dennis Miler cringe, and after receiving more electronic hatred than members of congress, the two doubled back and apologized released a statement saying that their Facebook account was hacked, declaring bankruptcy with their social media capital like they were Lehman Brothers.
Lessons Learned The Hard Way
The expression 'feeding the trolls' was coined about those who willfully respond to people who make it a job to draw ire and make comments that will enrage another person. The whole point of the  'don't feel the trolls' adage was to warn people like Samy and Amy from feeding into comments and posts specifically designed to make them angry and elicit such responses. Instead of letting it go, like most mature adults, they took a bad situation and made it worse and instead of accepting responsibility for their actions, they tried to play dumb and claim that it was all the fault of hackers, to which anyone with a brain and some sense of comprehension would immediately disbelieve.
If An Image Can Be Taken Out of Context, It WILL Get Taken Out of Context
Belvedere Vodka Posts "Rapey" Advertisement to Facebook page
Capitalizing on the not-so-hilarious issues already linked with 'alcohol' and 'rape', Belvedere straight blew off their foot when they posted this to their Facebook page: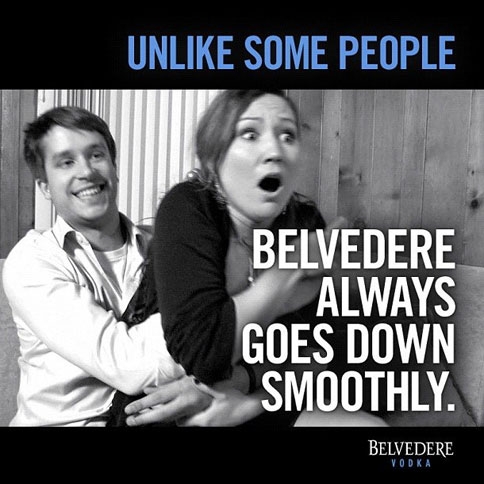 Even if other vodkas don't go down so well, suggesting that your brand goes down better than the male in the above advertisement is like bringing a 40 oz to an AA meeting. With all of the contemporary problems regarding alcohol, and date rape, Belvedere must have been product sampling that day.
Home Depot Tweets Image of African-Americans Next to Man in Gorilla Suit
If you just happened to cringe while reading the title to this entry, congratulations, you're a feeling, thinking, rational human being. If you didn't, then you're either Home Depot's social media team or the racism hasn't quite sunk in yet. In November, Home Depot posted this promo for College Game Day: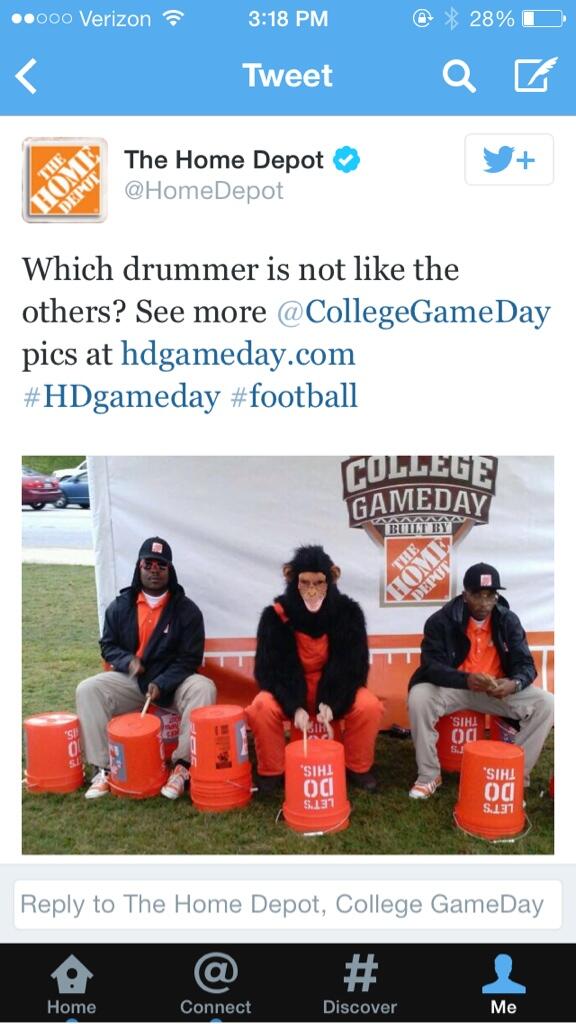 Without a hint of irony Home Depot asked which one of these three drummers were not like the others, blissfully ignoring the last 400 years of history and pretending as if no racist person has ever existed, ever. The rest of the internet, possessed with things like 'common sense' and a basic command of 'history', jumped on Home Depot's mistake, pointing out what everyone but them had already known. The company apologized soon after, with their new social media robot team copy-pasting the same response to those who tweeted at Home Depot during the whole debacle.
Lessons Learned The Hard Way
If something can be taken out of context, chances are it will get taken out of context, end of story. Think of any reading that can be taken away from the promotional image your about to Tweet or post to Facebook, and then decide if it is still as neutral as you may think.
Do As I Say, Not as I do – Taco Bell Promotes New Doritos Shell a Day Early, Forgets to Tell Individual Franchises
When Doritos and Taco Bell partnered up for the new Cool Ranch Doritos Locos Tacos, the brave souls who still dine at Taco Bells throughout the country rejoiced when the company announced in March that the crunchy, ranch flavored, shells would be in stores a day early. Unfortunately for those few dozen culinary adventurers who trekked out to Taco Bell, the firm completely failed to inform its franchises about the move, leaving most people's cravings for ranch flavored taco meat unheeded.
Expecting fans flocked to the company's Facebook page to express their displeasure. Taco Bell apologized for the mistake while encouraging users to provide the location of franchises that failed to deliver, illustrating that if you make a mistake, the obvious solution is to blame the next guy in line.
Lessons Learned The Hard Way
If you plan to promote something on a particular day, or with a particular thing, be sure to actually go ahead and stick to your word. Consumers, and the internet, have an extremely long memory when it comes to being slighted on something so one small mistake like failing to inform those under you of a promotion, in the case of Taco Bell and its franchises, can cost you business down the road.
This is What Happens When You Don't Check Your TweetDeck and HootSuite – Tesco Supermarkets Tweets About 'Hitting the Hay' After Horse meat Scandal
Quick, what's the first thing you probably shouldn't make jokes about after your company's burgers have been found to have horse DNA in their meat? If you guessed anything about horses, then you are correct, and 100% more qualified to run Tesco Supermarkets' Twitter page than Tesco Supermarkets. After test results that showed traces of horse meat within the company's burger patties, Tesco Supermarkets posted this:

When followers of the firm picked up on the not-so-subtle joke and suggested that the current timing of it probably wasn't in Tesco's favor, the company admitted that the tweet was scheduled weeks in advance and had not been intended to make light of the current situation involving the chain, once again illustrating that if you can deny something is directly your fault, you probably should do that instead of accepting full responsibility.
Lessons Learned The Hard Way
TweetDeck and HootSuite are two great programs used to send tweets automatically at the time the user specifies and while the two programs are great for sending tweets when you have to do pesky things like sleep. Though setting up tweets to go out months in advance could save you work, in the case of Tesco Supermarkets, more work and a social media disaster could have been avoided all together if someone just opened one of the programs to make sure that everything was still copacetic.