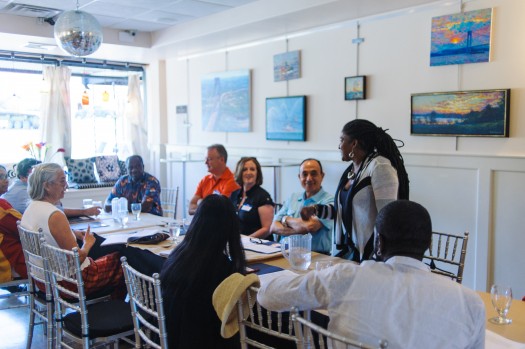 Artists and entrepreneurs are often thought of as two distinct and separate types of people in the business world, but aspiring artists who wish to turn their creativity into a sustainable living must be the creative, human resources, billing, sales, and advertising departments all rolled into one person to succeed.
The Art Intersects Workshops hosted by Staten Island Arts, formerly known as COAHSI, in partnership with Staten Island MakerSpace, is teaching aspiring artists how to be the agents of their own success and turn their work into money.
"There are people who have these skill sets and business ideas rooted in their creative work but don't have a venue to sell their art to the public," said the Director of Development and Community Programming at Staten Island Arts, Monica Valenzuela. "We're trying to connect artists with business skills."
Art Intersects is a four-part workshop aimed at providing constructive information on the organization, operation, creation of a business model, other related concerns that Staten Island artists may encounter while trying to make a living from creative works. Art Intersects will also give Staten Island artists, makers, and designers the ability to meet and network with others in their field as well as establish a dialogue with other artists.
The first of the Art Intersects series will be focusing on assessing the products and services that an artist has to offer, as well as how to price that creative value.
"Your time is valuable. People get paid for their time, but there isn't a hard and fast rule about your price as an artist," said Valenzuela. "It's scary to put a price out there when you're always told as an artist that it's about the exposure, and that's what happens a majority of the time."
The second and third workshops will focus on creative business models and explore some of the reasons that artists have trouble embracing a more business oriented mindset while the final will examine how to hatch the ideas of their business model, keeping accountable to the goals of their occupation, and how to measure success and failure.
"I wish I knew the details about setting up a business and setting up the technical aspects; the differences between an incorporation, an LLC, or a proprietorship, I just went to my accountant and asked what should I do? He said do this and I did," said Valenzuela, who also owns a small photography business, Hart and Sol East. "I wish I had more business skill knowledge. I could provide the service, but I didn't know how to pay my taxes. I just wanted someone to tell me that if I made a mistake that it was okay."
The Art Intersects workshops will be held at the Staten Island MakerSpace, at 450 Front Street. The Staten Island MakerSpace is a non-profit, community, based workspace started by Scott Van Campen and DB Lampman that offers equipment, tools, and a 6000 square foot space to turn creative ideas into tangible art.
The Art Intersects workshops cost $10 in advance or $15 at the door and require an RSVP. The workshops are free for Staten Island Arts and MakerSpace members. If you are interested in honing your business skill-set, reserve a seat for the workshop here.
The Art Intersects workshops are also supported by JPMorgan Chase, New York Community Trust, NYC Department of Cultural Affairs, NYC Economic Development Corporation, NY State Council on the Arts,  and Live With Design.