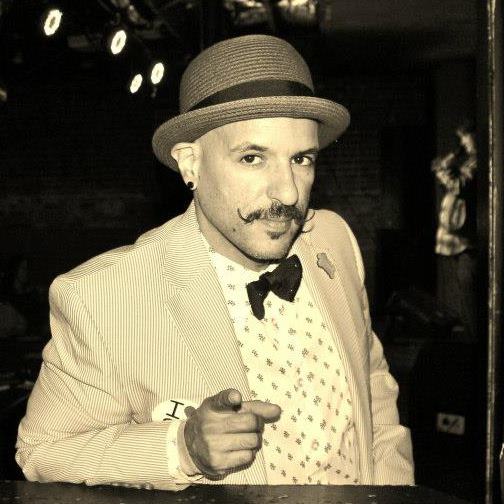 Tariq Zaid gets up everyday, goes to work, and hopes to reach out and positively influence the lives of the people in his community in some way, shape, or form while still bringing the newest, freshest, clothing and sneakers to Staten Islanders with his Richmond Hood Company.
"We want to reciprocate, that's why we do as many things as we can outside of the store," said Tariq Zaid, owner of Richmond Hood Company. "That's where we get the love; from all the people outside the store. They come here, mess with us, and we wanna do what we can to support them and be a part what they're doing, as long as its good and wholesome."
One of the ways the clothing company Richmond Hood reaches out to the community is by regularly sponsoring or co-sponsoring art installations and cultural events throughout Staten Island.
"It feels great to have an impact, in any capacity, in this case a good capacity," said Tariq.
In late July of the summer of last year, Richmond Hood Company, along with Ink Monstr, hosted the Sticky Situation NYC art show in the lot adjacent to the store. To put together the Sticky Situation NYC art show, Tariq worked at getting the wall space large enough to accommodate large art pieces for nearly two years before the landlord gave him permission to use their building wall, which was bare at the time. After getting the wall space to display the art, Tariq worked on planning the event for another six months.
"For six months, we just worked and worked and worked and made that happen," said Tariq. We had artists from all over the world; people came from as far as Japan. There were artists from Colorado, people visiting from Georgia, Delaware, Boston, New Jersey, and it was totally unexpected. Over a 1000 people came through the block that day."
Tariq plans on taking the successes of this years Sticky Situation NYC art show even further with next years event. Tariq plans on bringing more artists, performers, and creative talent to Staten Island next summer.
"Tomorrow we meet with the guys from the DOT to talk about closing the street off next year for Sticky Situation so we'll have more room to play with, to accommodate more people, to have more programming," said Tariq. "That's gonna be our main event of the summer."
On Friday, November 22nd, Richmond Hood Company is cosponsoring, along with a variety of other Staten Island businesses, the Inspired by Us event at the 5050 skatepark located on 357 Front Street. Inspired by Us is a free event that starts at 6 PM, and will feature unique art for sale, along with live painting and a premier of the film 12 Canvasses. Richmond Hood Co. is also unveiling a banner at the event, designed by the Art of Paper.
"Everything we do, we try to be original and unique so our banner is actually going to be an art installation piece by the Art of Paper guys. We're unveiling it that night and i'm looking forward to it."
Besides organizing and sponsoring events, Tariq runs the day-to-day operations of Richmond Hood Company. Richmond Hood Company was started five years ago on Van Duzer Street in Stapleton. At the time, the changing makeup of the neighborhood gave Tariq the inspiration for his first small business, a small boutique candle shop.
"We wanted to lend to what was happening in the neighborhood. Our original idea was a candleshop; a uniquely fragranced candle boutique, with housewares, kind of to lend to the whole vintage vibe going on. We explored that for a little bit, did some research and development, and then realized we weren't that into it."
A conversation with a friend eventually gave Tariq the idea of opening up a sneaker store in the same area.
"We kept thinking about the whole thing, and then we put it together. We spent another year doing research and development in this business, making sure our T's were crossed and our I's were dotted, and, Richmond Hood Company was created," said Tariq. That's kinda how it happened; three homies working together for a good year. Every week we met, did our homework, scraped up our pennies, and put our all into it."
Richmond Hood Company's first year on Van Duzer Street did not go as well as they had planned, with very little foot traffic and the logistics problems associated with being on a one-way street with little parking.
"It was rough, really rough, and after spending about a year over there, we were like this sucks, we might have to close, after spending all this time, all this energy, all this money, like holy crap this is bad"
Unlike most other small business, which experience a 50% failure rate in their first year of being open, the guys at Richmond Hood Company decided to take their chances and move to a new location in West Brighton.
"We are a group of guys who believe that the only chances you get are the ones you take. Being that we already did all the work, spent the money, time and the energy, we were like what else do we have to lose? Lets give it a shot and see what West Brighton offers."
Richmond Hood Company's first month in business on Castleton Avenue turned out better than the entire previous year on Van Duzer Street.
"We knew after our 1st month over here that there was perhaps some light at the end of the tunnel. It tooks us 3 months to sell 100 t-shirts over there on Van Duzer Street; our first month over here we sold a hundred t-shirts."
Five years later, and still in the same spot they moved to, Richmond Hood Company is still going learning, improving, and bringing unique trends and clothing to Staten Island.
"It's challenging for us at the same time also because we are boutique, and our business model is so that everyone keeps an individual appearance, like we don't want everyone wearing the same thing. So we have to continue to be fresher because our stuff is a little more limited. Its challenging in itself but we're a bunch of creative dudes and we see that as a good challenge."
For the future, Tariq hopes to make Richmond Hood Company a household name around the island while using his business to continue giving back to the community and growing the local arts and culture scene.
"When you think of SI brands you shall immediately think of Richmond Hood Company. We want to be or position ourselves as the guys who are at the forefront of the arts and culture scene." proclaimed the entrepreneur, "We try to involve ourselves with like-minded folks and we're being heard. So we're just going to keep pushing, keep annoying property owners, and pleading with them, give us walls. We'll hopefully keep going, keep doing more. That's the plan, keep doing more."
Below are some photos Mark took during his visit to RHC: