One of the most common complaints about Facebook is that the social network's News Feed is too cluttered with updates from games, companies, and "friends" that a user simply doesn't want to be updated about. The same can be said for Facebook's notification tab. Today, NBT is here to help you have a better experience on Facebook with six easy tips.
Unfollow (Not Unfriend) With Reckless Abandon
As much as it shouldn't be, it's a big deal for some people to be unfollowed on a social network. Twitter has had services that track unfollowers like Who.Unfollowed.Me for a while, and recently "Who Deleted Me" was introduced as a similar solution on Facebook. These services exist because people want to know the status of their digital social connections. In some cases, anger or resentment can result from someone who discovered that you're no longer following them. It's a whole to-do and you can avoid it.
Some people are quick to unfollow friends with different political beliefs or a penchant for posting one too many baby photos to get them out of their News Feed. Well, it doesn't need to be so drastic. Not only do you not need to wipe that person from your digital life, potentially creating real life tension, but you might just need them to help you to move one day. Who knows?
What we do know, is unfollowing users that you deem boring, offensive, or annoying will definitely make your Facebook life better and better over time. Here's how:

Block Those Annoying Facebook Games
We all know the feeling. You see the little red notification icon, and get a shot of Facebook dopamine happiness, only to learn that your aunt wants you to send over a sheep on Farmville. Nobody liked your photo, or made a witty comment on your status. It's annoying, and if your aunt is persistent enough, there are just too many sheep to count.
Facebook understands your pain. That's why they have a system in place to stop those digital sheep in their digital sheep tracks.
After doing this a few times, you'll end up having most popular Facebook games blocked, and you'll be sheepless in no time! Here's how to do it: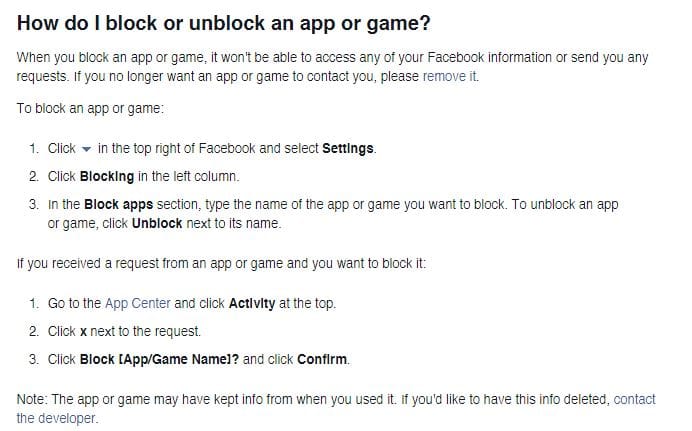 Prioritize Which Friends Show At The Top of Your Facebook News Feed
This is a new one, so it's still rolling out for all platforms. But, if you use the Facebook iOS app for Apple products. You can make sure that the statuses that you want to see are sitting right at the top of your NewsFeed so you're less likely to miss an update from someone important to you.
Editor's Note: If you don't see the update in your Facebook app yet, wait for it, these things can take time sometimes.
For those of you who do see it, here's how to use it, according to Mashable:
You can adjust the new News Feed preferences, which are only in Facebook's iOS app for now, from the "News Feed Preferences" menu in the "more" section of the Facebook app. The revamped preference menu has four sections: prioritize who to see first, unfollow people to hide their posts, reconnect with people you unfollowed, and discover new pages.
Here's Facebook's official video explaining the feature:
Turn Off Notifications For Individual Posts On Facebook
One of the most annoying things that can detract from the Facebook experience is receiving notifications for comments on posts that you're not interested in being updated on. Sometimes, you just want to congratulate your friend on their engagement and then duck out of there without having your phone blow up as 45 strangers also congratulate them. Sometimes people start debating something underneath your comment, and you want no part of it.
Facebook understands this as well, and that's why they added the magical "Turn off Notifications" option for posts that you've commented on.
Here's what you need to do: On the top right corner of the post, you'll see a downward pointing arrow. Click that. You'll see an option to "turn off notifications" click that as well. Congrats!! Now you're done. You should no longer receive updates about that post.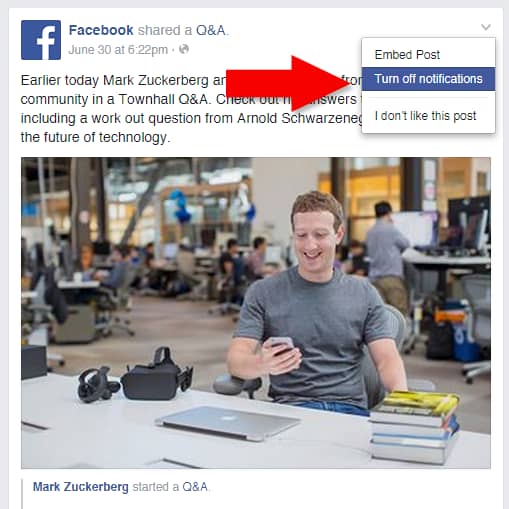 (You can also opt to just turn off notification sounds)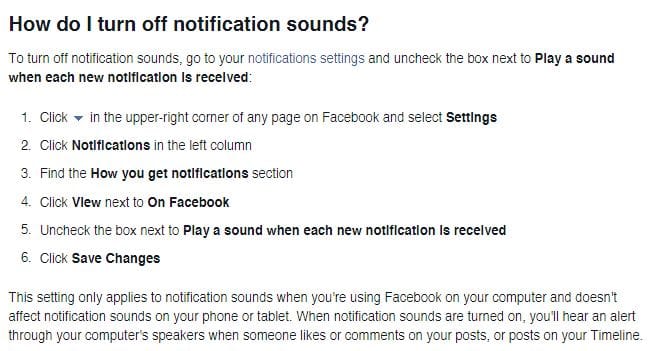 Hide Advertisements From Specific Advertisers
Similarly to how you can stop unwanted comment notifications, you can also ban advertisement from specific advertisers in your News Feed. Not all advertisements are created equal, and some are just more spammy than most. So, if you find yourself seeing a lot of advertisements from shady advertisers or ones who are linking to garbage.
Here's what you need to do: On the top right corner of the advertisement (you'll know it's an advertisement because it'll say "sponsored post" in the top left of the update), you'll see a downward pointing arrow. Click that. You'll see an option to "Hide all ads from [name of page]" click that as well. Now you're done. You should no longer see advertisements from that Facebook user.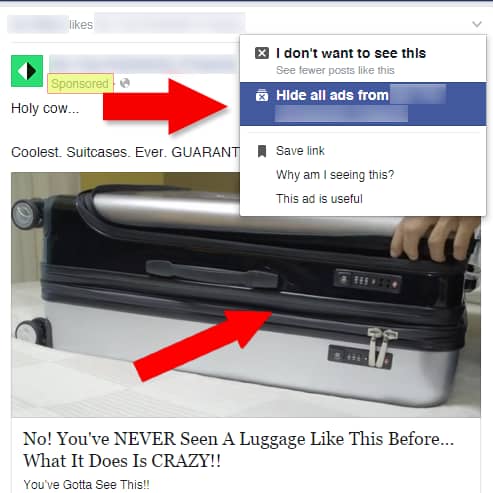 Block Facebook Event Invites From A Specific User
We all know them, the Facebook promoter. They run about 8 events per month, and they invite you to every single one, even though you've never attended any. Facebook events are great because they're a quick and easy way to let friends know about a birthday gathering, family function, or fundraiser. Like every useful tool, it has been co-opted by savvy marketers leveraging it to get heads to their open mic or VIP club access or whatever.
Facebook has an answer for this as well. This is one of my favorite, because by blocking the event spammers, I'm now able to see Facebook events that I'm actually interested in attending. Here's how to do it:


That's it for now. We hope take these tips to heart, and enjoy your new, better, Facebook experience!
If you found this information useful, be sure to share it with your friends and family!
Follow NBT on Twitter and Facebook for more tips and information about how you can make the internet work better for you!