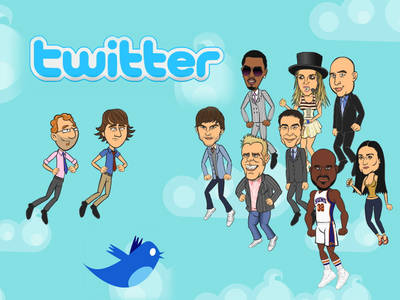 It's no secret that Twitter has become a major platform for anyone and everyone with a unique and interesting voice. But not everyone can tweet with the best of them. Especially in Hollywood, where egos can run rampant and many celebs can feel as if their word is the most-important when they have nothing of importance to say at all, there is something to be said for the famous folks that can do it right. By adding value to their tweets by dispatching advice, jokes, information, and even interact with fans.
Here are 10 celebs, in no particular order, that know how to tweet with the best of them.

Founding member of The Roots and Late Night With Jimmy Fallon music-man Questlove is one of the most-active musicians on Twitter. He hits every note on point; he TwitPics wherever he goes, holds conversations with famous friends and fans alike, gives backstage info on working at Late Night, and isn't afraid to follow fans he finds entertaining. Questlove is known for being one of the more-versatile drummers in music today, but his prowess on Twitter appears to be just as versatile.

Speaking of Late Night With Jimmy Fallon… It's Jimmy Fallon! The prince of NBC Late Night first used Twitter leading up to the start of his show back in 2009 and used the, then-new, medium to interact with fans and bring them behind the scenes and even read fan tweets over the air. While Fallon has slowed down with replying to fans in recent months, he still adds a ton of value to his tweets by documenting his various media events and endeavors (Like when he live-tweeted from his hosting gig at the Macy's Thanksgiving Parade) with his casual wit for fans.

While we're on the subject of comedy, Steve Martin is one of the more active comics on Twitter. Surprisingly though, while he is very-active, he ALMOST loses points for not being funny enough. I say 'almost' because he spends way more time replying to people. Less jokes than most comics on Twitter, but they're funny when they are there, coupled with a comic legend willing to mix it up with his fans? Sounds like a winning formula for this wild and crazy guy!
The Shaun Of The Dead and Scott Pilgrim director nails every mark by not only adding extra value by frequently updating and interacting with fans, but by even posting exclusive, rare content for fans. A great example of this is a recent tweet linking out to a couple of mash-up videos the director did when he was only 19.

While we're on the topic of lovable nerds, Wil Wheaton has used social media, and the internet at large, to carve out a career trajectory of being a young Wesley Crusher on Star Trek: The Next Generation to being an internet blogger/personality. Might not seem like a huge deal to you, but you try remembering the last time a child star on a sci-fi show was able to crawl out of that position, engage with the public, Tweet-document all things nerdy and garner over 1,700,000 followers. Case. Closed.

Now for something completely different, besides being one of the biggest pop stars going today, Justin Bieber is also one of the biggest tour de forces on Twitter. It's no wonder he has over eight million followers once you get a glimpse at how Twitter-savvy the young star is. He replies to fans, let's followers into his world, and, from a marketing perspective, keeps ties with all of his various fan-group accounts via Twitter; securing wholesale the personal lock on every corner of his fan community.

On the female end of the Pop spectrum is Katy Perry. The princess of modern pop uses Twitter to dish about gossip, interact with fans, as well as to keep tabs on her husband, comedic actor Russell Brand. Not to mention, with the recent introduction of her cat 'Kitty Purry,' you'll be sure to get tons of adorable kitten pics with your commentary. Who doesn't love cute animals? Cute animals make up at least 60% of the internet.

Political funnyman Bill Maher is one of the few straight-political Twitter accounts doing it right. While other accounts like Anderson Cooper's are good at dispatching information and The Onion good at news-parody, Maher's is one of the few that has a good mix of satire, hard news linkouts, and just the right amount of self-promotion.

Actress Alyssa Milano livens up her Twitter by being very help-minded; frequently tweeting with fans and dispatching information about various charities and animal rescue links. Besides her active and helpful Twitter persona, she also owns the domain ALYSSA.COM! Take a minute to think about how amazing that is. Yeah.

Director Kevin Smith has always been a cult favorite to millions of people by way of his quick-witted scripts and genial, humble nature. Him on Twitter is no different. Except now he has an on-the-go platform to promote behind the scenes footage from his films as well as keep fans updated and in the loop on upcoming projects and content from his SModcast network of popular podcasts.